Engagement ring
An exceptional ring for an exceptional woman
All our engagement rings are handmade and custom made. They are shaped according to the personal taste of each client, and are created by the best craftsman jewelers. Our goldsmiths and setters are working with all alloys available on the market, in order to elaborate a fine jewelery ring showcasing a diamond that matches your feelings. Custom made fine jewelry caters to a clientele in search of a piece of exception for an exceptional woman.
A custom made engagement ring
The superior quality of our work is matched by only a handful of the finest jewelry maisons. The goldsmith, paving, setting and the polishing are done by hand by our jewelry artisans. They deploy their full talent in order to personalize your engagement ring according to your wishes, and customize it in classic, elegant, original, modern or solitaire styles. Compared to the standard models proposed by the major brands, which often offer series of all identical pieces, our engagement rings are truly unique, much more refined, individualized for each customer and tailored to each diamond.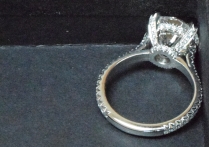 Tradition and craftsmanship savoir-faire
The quality of our work, the quality of our diamonds and the quality of the alloys are all factors that reflect in our jewelry to its finest detail and finish. The value of DiamAlps is the tradition and the craftsmanship which we are committed to. We do not invest in marketing or retail boutiques, and our cost structure is therefore much leaner, thereby benefiting our clients by delivering up to 3x more value for their budget.
Make an appointment
Clients are received by appointment only. Contact us in order to meet our diamond jeweller in Geneva who will present to you our savoir-faire for a diamond engagement ring.
DiamAlps is a trademark of Yazam Sàrl, and is run by Raoul Beck.