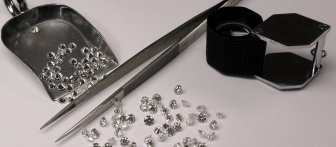 How to buy diamonds
Our clients are private clients and families who wish to benefit from a direct access to the diamond wholesale market whilst being cautiously advised on available diamonds for sale.
All our gemstones are certified by the most reputable institutes GIA (Gemological Institute of America) or HRD (Hoge Raad voor Diamant, the Diamond High Council which is a division of AWDC, the Antwerp World Diamond Centre). The gemological report guarantees the quality of the diamond and the absence of treatment. All our gemstones are carefully selected according to cut and polish criteria applied by the largest brands of fine jewelry. They are all natural and responsibly sourced. Our clients buy diamonds in Geneva at our main office, and we deliver the gems and their certificate throughout Switzerland or at our offices in Antwerp, Hong Kong or in Paris.
The Rapaport Price List is the industry standard for the pricing of diamonds. This weekly subscription-based publication is used worldwide as a reference. These prices are then weighted according to the many characteristics of each stone, resulting in a final discount that also takes into account the volume of the transaction.
In order to buy diamonds, our clients simply follow these simple steps:
Our client indicates their budget and needs.
We meet in person and offer an individualized advice in order to identify the diamond categories and price ranges that suit our client's specific needs.
We propose a list of certified gemstones available from stock.
The client makes their choice.
We deliver the gems and their certificate throughout Switzerland.
All our diamonds are purchased from legitimate sources and are guaranteed to be of conflict-free origin in compliance with the Kimberley Process.
Buying tips
DiamAlps recommends the following simple but important rules when purchasing gemstones:
Reliable diamond traders publicly disclose their full personal name and identity. Check their website and verify their track record and reputation.
Verify if the seller is a registered member of diamond exchanges, in order to confirm that they are legitimate industry players who abide by the industry's code of principles.
Choose a company that operates from its own premises, and whose offices are equipped with precision instruments that can be used in order to verify the purchased diamonds in your presence.
Make sure that the stones are delivered with their gemological report, certified either by GIA or HRD. Other gemological laboratories may apply less rigorous grading criteria and therefore their certificates are of lesser value.
Verify the certificate's authenticity online. In case of doubt, ask for laser inscription which is a complementary service in which the certifying laboratory microscopically inscribes the unique report number on the stone's girdle.
Review the grading report in order to confirm the absence of any sign of artificial treatment, such as the warnings "Color enhanced" or "Clarity enhanced".
Make an appointment to meet with us
Our main office is located in Geneva (Switzerland), at the center of the surrounding Alps. Contact us for an appointment with a diamond trader in Geneva if you wish to buy diamonds in Switzerland, or with one of our representatives abroad.
DiamAlps is a trademark of Yazam Sàrl, and is run by Raoul Beck.