A reputed family business since 1860
DiamAlps is your boutique firm

Expert manufacturer Leopold Beck gets visit
from renowned cutter Gabi Tolkowsky
Documentary film, National Geographic Channel, 1994
Ideally situated in Geneva, DiamAlps is a Swiss diamond shop headed by the Beck family, native from Antwerp and involved in the diamond trade for five generations since 1860. Private clients and families find at DiamAlps a personalized and careful counsel. We advise on your specific needs, propose matching gemstones and guide you through the acquisition process. We furthermore produce tailor made fine jewelry. DiamAlps is also represented in major international diamond centers.
A family tradition
1860's Mr. Blitz starts working in the diamonds industry in Amsterdam, Netherlands.
1890's Mr. L. Blitz, second generation, arrives in Antwerp, Belgium from Amsterdam and is part of the founding members of the new Antwerp diamond traders' community.
1907 Mr. I. Beck starts learning the secrets of the diamond trade from Mr. L. Blitz, his father in law, in Antwerp.
1929 The Antwerpsche Diamantkring is founded as the leading rough diamond exchange in Antwerp, with Mr. I. Beck as a member of its Board of directors.
1932 Mr. I. Beck opens a diamond factory with his brother in the center of the Antwerp diamond district.

Leopold Beck, fourth generation

1955 Mr. Leopold Beck, fourth generation, joins the family business.
1961 Mr. I. Beck becomes President of the Antwerp diamond exchange Antwerpsche Diamantkring, a position which he'll hold until his passing away in 1972.
1995 Mr. Axel Beck enters the diamond business as its fifth generation member.
1997 Mr. Raoul Beck becomes a partner at Beck Diamonds in Antwerp, Belgium.

Raoul Beck, fifth generation

2003 Mr. Axel Beck starts sourcing rough diamonds directly from South Africa.
2005 Mr. Axel Beck opens a factory in Kimberley, South Africa.
2010 Mr. Axel Beck starts off production in India for smaller stones.
2013 Mr. Raoul Beck sets up DiamAlps in Geneva, Switzerland.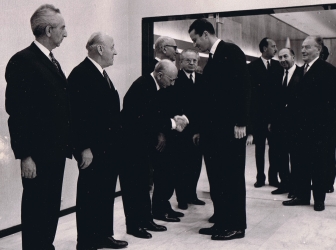 King Baudouin of Belgium, being introduced to I. Beck
Inauguration of Diamond Club, november 1969
I. Beck, third generation, President of Diamantkring
(1st row, center) surrounded by his Board, 1964