Diamond certificates
Identification and authentication
A diamond certificate is like a personal identity card that accompanies the gemstone. It comes in the form of a grading report attesting of the diamond's quality and authenticity, and documenting its specific characteristics. The certificate includes security features such as a hologram, a background screen, and microprint lines.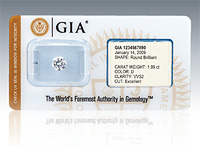 Laser inscription is a complementary service in which the unique report number is microscopically inscribed on the diamond's girdle. Optionally the gemstone can be sealed in a compact and tamper-resistant package incorporating key grading information (note: GIA suspended its sealing activities from November 2014 to February 2016).
The authenticity of the gemological report can further be verified online:
GIA report: http://www.gia.edu/report-check-landing
HRD certificate: http://www.hrdantwerplink.be/
How to buy diamonds
DiamAlps offers careful advice to its clients and grants them a direct access to the wholesale market for purchasing certified gemstones. If you wish to make a purchase directly at a diamond trader, please contact us in order to meet in Geneva or with one of our representatives abroad.