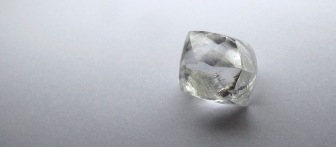 Diamond mining
Underground mining
Recovering rough stones that give birth to polished diamonds requires a whole organization and a tremendous array of equipment that enabled miners to localize the diamond ore (generally Kimberlite), to dig it, to crush it and finally to recover it.
Be the mines opencast, underground or submarine, their exploitation requires colossal investments, which only a very limited number of multinational companies are able to sustain. As an example, 250 tons of ore need to be moved to discover a one-carat diamond (0.2 grams).
Alluvial mining
Rough diamonds are recovered by diggers who filter and sift hundreds of square meters of alluvial ground before finding a stone. Although far more unpredictable than traditional underground mining, this method of extraction offers the tremendous advantage of not requiring any costly start-up investments, except for a claim fee.
If there's a job for which the pioneer spirit is still required, it is certainly that of alluvial claim digger. Although strictly regulated, this sector is one of the rare areas of mining exploitation where the result of hours and days of backbreaking work is totally unpredictable. One could work a riverbed for weeks on end without finding the slightest ghost of a stone and then just wake up one morning and discover, hidden behind an algae, a diamond of inconceivable value.
Next: The Kimberley Process >>