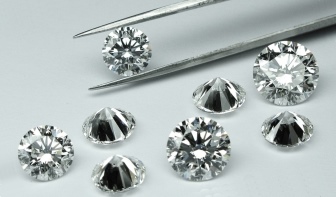 Diamonds as an investment
A Diamond is Timeless
Mankind has been cherishing diamonds for millennia as one of the most valuable products on Earth. The rare natural gems carry considerable wealth within a small volume, and constitute an incomparable gift to your heirs. Increasingly, our clients also engage into diamond investment.
Investing in diamonds
The annual diamond market studies (e.g. the Rapaport Diamond Price Statistics Annual Report, or the Global Diamond Report published yearly by Bain & Company) report that diamonds of the highest color (D, E, F) and clarity (IF, VVS1, VVS2), and ranging from 1 to 10 carats, have appreciated at significantly high and steady rates over the past decades, with price volatility much lower than other assets. Since 2015 the market has relatively stabilised for the respective gemstone categories. In particular, investment-grade diamonds are to be graded tripple-EX (Excellent Cut, Excellent Polish, Excellent Symmetry) and to exhibit no fluorescence. Bain & Company highlights in its Global Diamond Report 2014 that demand for diamonds as investment now accounts for almost 5% of today's polished diamond market.
Diamonds present advantages when it comes to wealth management:
A pricing scheme that is accepted worldwide.
Well organized wholesale market and diamond exchanges offer considerable liquidity.
There is one worldwide leading diamond grading laboratory (GIA), which permits an objective and repeatable appraisal according to well defined grading criteria.
The value is tangible since it is entirely captured by the gemstone itself, by the material.
Bain & Co reports that polished diamond prices are 3x less volatile than silver and 1.5x less than gold.
A gemstone captures considerable value within little space.
Diamond owners gain direct and total control over their asset, since it is not securitized into structured products and does not depend upon anyone else but their proprietor.
Gems are a complementary vehicle for wealth management, donations and legacy planning.
Invested funds are not pecked by any management fees.
Such an investment is immune to negative interest rates, such as those applied in Switzerland since January 2015.
Diamonds are a discreet investment.
Diamonds do not depend on the stability of banking structures.
And finally, funds invested in gems can be furthermore enjoyed by wearing them as jewelry.
Therefore diamonds are considered a safe haven by many.
Bain & Company identified in their Global Diamond Report 2013, a few trends sustaining a projected upward pressure on polished diamonds prices:
Polished diamond prices grew at a compound annual rate of +6% since 2008 (until the date of the study).
Global diamond reserves are decreasing, and have shrunk by 10% from 2000 to 2010.
Over the next 10-year period, Bain & Co expects supply and demand for rough diamonds to grow at a compound annual rate of 2.0% and 5.1%, respectively. Therefore the expected intensification of demand will exceed the forecasted growth of supply.
The factors listed above explain why our clients increasingly frequently purchase diamonds for investment purposes.
Diamond Wholesale
DiamAlps opens to its clients a direct access to the wholesale market, including if they wish to buy loose diamonds. Therefore when buying diamonds in Switzerland your purchase prices are much more attractive at DiamAlps than at retail luxury stores, which is a necessary condition if you consider investing in diamonds. We ship the goods to the client's premises, or alternatively the client can come to our offices in order to take delivery of their diamonds in Hong Kong, Antwerp or Geneva.
Risks
Investment diamonds, as defined in the diamond sector (Rapaport Investment Diamond criteria), are not shares or bonds and therefore they do not offer any inherent yield. Diamonds do not distribute interest or dividends. They are not a financial instrument for investment, because the purpose of any cut diamond is always to be set in jewelry. However, their value evolves over time. Retail jewelry sales are subject to trends that influence wholesale demand. Therefore when a diamond is resold, its value will depend on the supply and demand prevailing on the diamond market at that respective time for the specific category of that diamond, with a risk of lower prices that should not be ignored. In some cases, resale may result in fees, for example, if you mandate a broker for relisting on the market. We would be pleased to inform you about the mechanisms of the diamond market, and on the opportunities to resell a particular diamond as a function of its detailed categorization.
Make an appointment
Clients are received by appointment only. Contact us in order to meet a diamond trader in Geneva or with one of our representatives abroad.
DiamAlps is a trademark of Yazam Sàrl, and is run by Raoul Beck.